Discover the golf course of Blue Bay Resort, gazing at the beautiful island scenery and azure blue waters of the Caribbean Sea. The perfect use of the natural height differences, sand, sea and rocks ensure the result of a magnificent golf course to behold.
This challenging yet entertaining course guaranties that beginners and more expereinced players will have an enjoyable golfing experience. Many have learned to play golf here, and have become addicted to this course.
All guests at Bayside Botuqiue Hotel receive a 50% discount on the Greenfee!
The course consists of 18 holes with a par of 72. Guests of Bayside Boutique Hotel have the option of lending Golf clubs for free.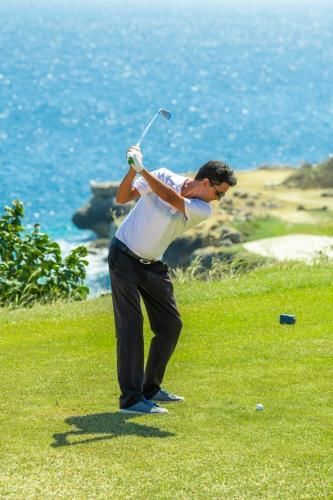 Golf Clubs
Not able to bring your own clubs?
No problem!
Use the golf clubs that Bayside Boutique Hotel has to offer. The clubs can be used free of charge!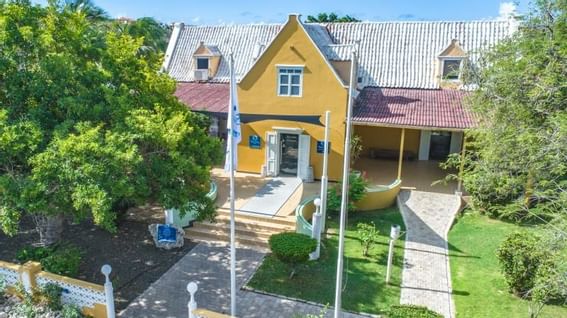 Club House
The clubhouse is a historical old building with the opportunity to refresh before or after a session of golf. The clubhouse offers various drink and you also have the possibility to get something to eat as well. Enjoy what the clubhouse has to offer with a beautiful view over the course!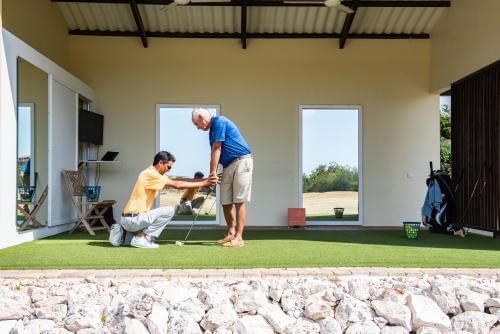 Golfing Lessons
For guests that do not know their way around a golf club; golf lessons and clinics are available at the course. The course is hereby suited for everyone!
18-hole course
Explore the layout of the 18-hole golf course that Blue Bay has to offer. You start in the middle of the resort and hole-by-hole, you work your way clockwise around the resort until you come back to the middle to play the 18th-hole.
So enjoy the beauty and challenge that the course has to offer during your stay at Bayside Boutique Hotel!