Kokomo Beach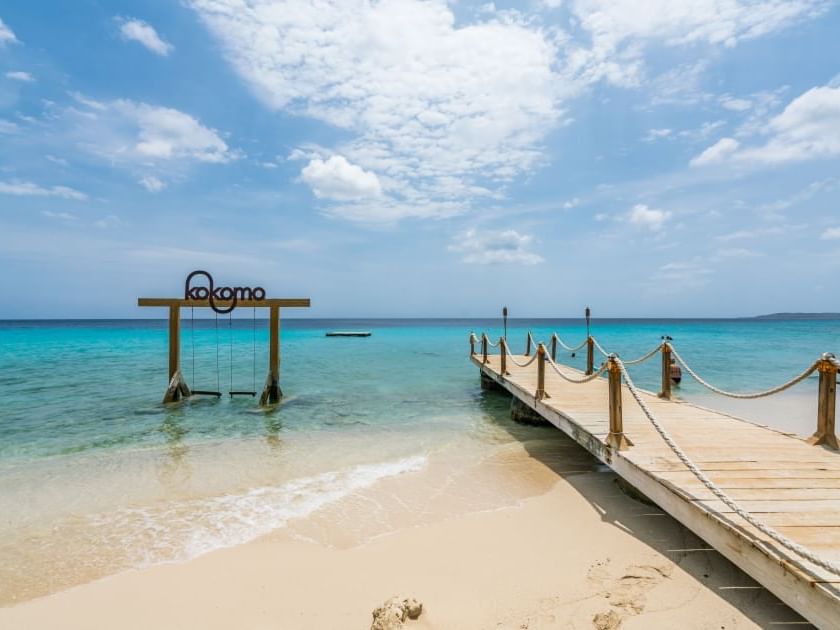 Kokomo beach is 200m long but has beautiful views to offer. The beach is very well kept by the staff, who are also more than happy to help or serve you. During weekdays, you can ultimately relax on the beach. In the weekends it is a bit busier at Kokomo. On Sunday, there is a DJ that plays a lot of nice tunes and at the end of the day a live-band comes to play some music.

Kokomo beach is well known for its photo-worthy swing that is located in the water. Many people come to Kokomo to enjoy some snorkeling to see the colourful, gorgeus fish and coral. There is rarely a current in the water, so you can enjoy floating in the water without a struggle.

Kokomo beachclub has a good restaurant and a bar with a large variety of drinks. You enjoy a variety of lunches, snacks and dinners. You can also get served at your beachbed so that you can keep enjoying the sun.
Entrance fees are as follows:
Monday – Sunday: Free

Beach Chair Rental: Nafl. 7,50-
Vaersenbaai n/n, Willemstad, Curaçao Willemstad Curaçao
Monday09:00 - 18:00
Tuesday09:00 - 18:00
Wednesday09:00 - 18:00
Thursday09:00 - 18:00
Friday09:00 - 18:00
Saturday09:00 - 18:00
Sunday09:00 - 22:00