Porto Mari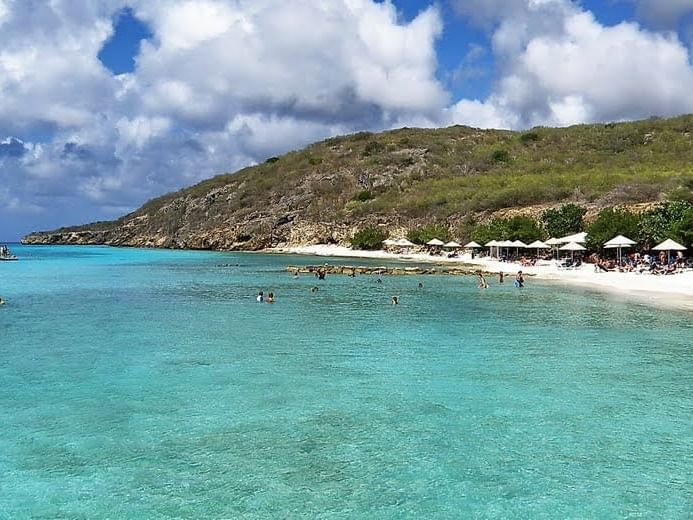 The beautiful white beaches of Porto Mari are located at Playa Porto Mari. The beach is very spatious and the azure blue waters of the Caribbean Sea are crystal clear here. There are an abundance of parasols so that you can enjoy some shade. The drive towards Porto Mari is also very beautiful as you drive past flamingos and the saltpans. Once you go past the port of Porto Mari, you drive on an asfalted road through a nature reserve
Porto Mari is also well-known for housing beach pigs. There are pigs on the beach that roam free and live on the beach.
The beach is very suited for children, only be careful of some sharp rocks at the edges. Snorkeling is also possible at Porto Mari and you will primarily see beautful fish near the edges.
Porto mari also has a bar & restaurant where you can order a variety of drinks or dishes. You can sit on the balcony so that you can enjoy a beautiful view of the beach and sea. On certain days there is a chance you might be entertained by some live-music.
Entrance fees are as follows:
Monday – Sunday: Nafl. 5.-

Beach Chair Rental: Nafl. 6,-
Playa Porto Marie, Curaçao Curaçao Curaçao
Monday24-hours
Tuesday24-hours
Wednesday24-hours
Thursday24-hours
Friday24-hours
Saturday24-hours
Sunday24-hours